Retrieve Reviews
Easily grab your reviews from Facebook, Google, Yelp, TripAdvisor or manually add them.
Setup a Template
Create a template and display the reviews in a super cool testimonial slider or grid view.
Add Template to Site
Put the template code on your site and display your testimonials.
Done!
Start building user confidence and increasing your search engine ranking!
A WordPress Plugin Built With Love
Just a few of the features.
Improve SEO
Search Engines love new content. Now you can display different reviews every day automatically! You can even add a Google Rich Snippet!
Sliders
Turn your reviews in to fully functional sliders with all kinds of options! Not in to sliders? Simply display them in a masonry grid, regular grid, or list!
Pick and Choose
Select which reviews to show based on length, rating, and type or even pick and choose which ones you want.
Download Reviews
Easily grab reviews from your Facebook page, Yelp, TripAdvisor, or Google Places so you can display them on your site.
Customizable Templates
Pick a template, easily change the colors, hide/show the stars and the date, and even change the border radius. They will look great on all screen sizes!
Email Notifications
Automatically get emailed when the plugin finds a new low rating review!
See WP Reviews Slider in Action!
Multiple customizable styles and slider settings available!
Plans and Pricing
All plans come with a 30 day no-questions asked money back guarantee!
Custom CSS
Hide Reviews With No Text
Create Review Slider
Everything in the Free version plus…..
Display Yelp, Facebook, TripAdvisor, Google Places, & manually added Reviews all together or seperately!
Grab reviews from 15 different locations! Get Facebook reviews from all pages you manage!
Show the logo from where the review originated, increasing customer confidence!
Super cool Summary Badges!
Front end Submission Form (coming soon).
Email Notifications for new Low Reviews and new High Reviews if you want.
Multiple Template Styles, all easily customized.
Fine Tune Slider Controls, like speed, duration, transition style, auto-play, auto height adjust and more.
Tons of Filter Options so you can display only the reviews you want. Even pick and choose them.
Support, Updates, & New Features
All Plans come with a 30 day no-questions asked money back guarantee!
Four templates to choose from. We'll even add one if you're not happy.
Change the colors, border radius, date format, and turn on or off the stars and date. Even change the star icon if you wish.
Enter your own custom CSS to control even more!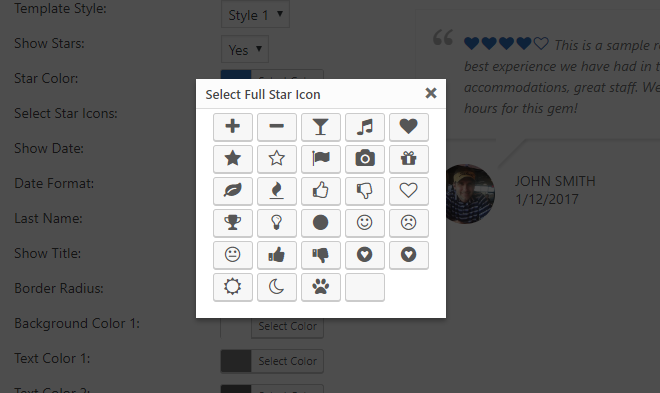 Select the full star icon and the empty star icon. Or leave the empty one blank if you want. Note: TripAdvisor and Yelp reviews must use their respective icons.
If you don't see one you like, simply contact us and we'll get it added!
Review Summary Badges
Easily create fancy badges like these! Fully customizable colors, borders, icons, and CSS!




I tried a lot of review plugins. This one is the best I found. When I had some problems, the developer addressed them the same day. Pricing is very fair and affordable. Ryan Jensen
With Yelp and Google being the go to resource for consumers searching for local businesses, displaying reviews from these credible sites is the ultimate confidence builder. This plug-in is simple and affordable and works as advertised. Support was also quick to respond and helpful. Two thumbs up. Bill F.
I love this plugin, it increased my leads right away and people are tellig me they contacted me because they saw good reviews from other customers. Bruno St-Aubin
Stephen M.

I had the sweet potato Latham pizza and a barrel-aged dark beer from Yellowhammer brewery.  Delicious!  The service was beyond excellent, with helpful and humorous comments from the wait staff.  WiFi (to settle disputes among my friends), excellent food and drink, and superb service.  What's not to love?

2/19/2016

Heather L.

Excellent ingredients and care shine through in every pizza. We enjoyed the PMS and the Porkenhammer along with a chat with owners Tina and Stan. They let us try the adult ice cream and we had to go for some Bourbon chocolate ice cream to top it off.... read more Lovely place and so glad we stopped in. Apparently all the rocket scientists at NASA eat here. It made me smarter!

5/01/2017

Kim Schneider

We've eaten on the patio twice and in the restaurant once. The service is great, and my Sante Fe Salad was great, veggie burger was good, but the nachos were on fire, but good. I think I'll stick with the salad the next time we go or even... read more try a hamburger, which is the best thing on the menu; my husband likes the bistro burger. I like the patio the best, even though it's a bit loud, you can still have a conversation.

2/21/2018
Also Available on Other Platforms
More Being Added
If you have a suggestion, contact us below.
Do I also need the free version installed?
No, actually you need to deactivate the free version before activating the pro version.
Can I grab and display reviews for more than one location?
Yes, Facebook will let you grab all reviews for pages you manage. Google, TripAdvisor, and Yelp you can go up to 15 locations.
Can I use this on multiple sites?
Yes, if you purchase the Multi or Developer option.
What is your refund policy?
We offer no-questions-asked refunds to all customers within 30 days of your purchase. If you are not satisfied with our product, then simply send us an email and we will refund your purchase right away.
What sort of support do you offer?
We pride ourselves on offering excellent support! Most of the time you'll be talking directly with the plugin developer. We have a community forum that you can access from the plugin in your WordPress admin. We also offer email support.
Can I upgrade after signing up?
Yes, you can upgrade at any time after signing up. This can be done directly from within the plugin.
Can I have different sliders displaying different reviews on different pages of my site?
Yes, you can create unlimited templates to display different reviews.
Can I cancel my subscription and still use the plugin?
Only for yearly subscriptions. If you decide not to renew, then you will still have access to the pro features of the plugin. However, you will not get updates or support.
Contact Us
If we didn't answer all of your questions, feel free to drop us a line anytime.