WP Review Slider Pro
One of the first and best plugins to display your social media reviews on your WordPress site!
Just a few of the features...
Create a slider, grid, badge, or float to show off your reviews.
Automatically download your reviews from 85+ different sites.
Download reviews from multiple locations on the same source site.
Capture customer reviews with a form on your site.
Manually add any review from any site.
Get email notifications when new reviews are found.
Analyze your reviews with built-in charts and graphs.
Automatically sync with your WooCommerce reviews.
Start increasing your Social Proof today!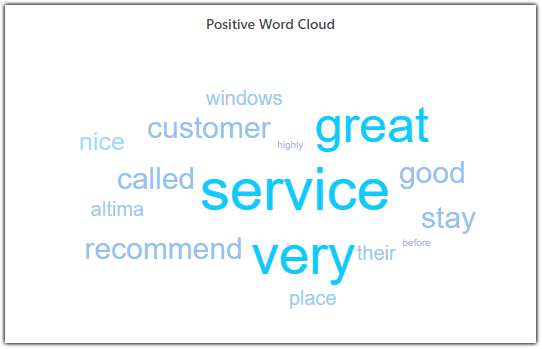 Retrieve Reviews
Easily grab your reviews from Facebook, Google, Yelp, TripAdvisor, etc... or manually add them.
Setup a Review Template or Summary Badge
Create a review template slider or grid with filters to show off the reviews you want people to see! Also, easily create a summary review badge.
Add Template to Site
Put the template or badge shortcode on your site and show off your testimonials.
Done!
Start building user confidence by displaying social proof and increasing your search engine ranking!
Even More Features
Make the reviews float on the page, create a review submission form, make an automated feedback pop-up form, analyze your reviews with charts and graphs, and more!
A WordPress Plugin Built With Love
I've spent over 3 years coding and supporting this plugin and I'm here if you ever need help or have a question!
Improve Social Proof
Increase your visitors' confidence by display Social Proof of reviews. Now you can display different reviews every day automatically!
Slider or Grid Display
Turn your reviews in to fully functional sliders with all kinds of options! Not in to sliders? Simply display them in a masonry grid, regular grid, or list! Even include a Load More button!
Review Filters
Select which reviews to show based on length, rating, source page, and a lot more filters or just pick and choose which ones you want to show off.
Download Reviews
Easily grab reviews from your Facebook page, Yelp, TripAdvisor, Airbnb, Google Places, and 65+ other sites so you can display them on your site.
Customizable Templates
Pick a template, easily change the colors, hide/show the stars and the date, and even change the border radius. They will look great on all screen sizes!
Email Notifications
Automatically get emailed when the plugin finds a new low rating review!
See WP Review Slider in Action!
Multiple customizable styles and slider settings available! You can even create a regular or masonry style grid of reviews!
Sliders not your thing? Use a regular or masonry-style grid!
Easily add a Header, Search Box, Sort, Quick tags, and Pagination! Even control the height of the individual review boxes!
WP Review Slider Pro - Rated 4.9 out of 5 stars based on 235 customer reviews.
perfect for my client
This is great. this is my second client that agree to implement it and the conversion rate went up. It...
read more
Gabriel Goaga
Does exactly what I wanted and looks fantastic
Pulls all my reviews from my pages and allows me to filter the displayed results by keywords. So in my...
read more
Charles Odom
Exactly what I needed
I need a way to pull in reviews that could be updated automatically. This fit the bill perfectly!
Kiar Olson
Feature Rich
Many useful layout features and review company options. I bought the pro, glad I did.
Glenn Goodman
Vert Great plugin!
I had been using and knowing the free version for several years. the pro is really great and very powerful...
read more
Gianluca Molina
Works really good !
Great. Everything is fine Easy to implement and pushs up conversion rate
Tom Riedel
Plans and Pricing
All plans come with a 30-day no-questions-asked money back guarantee!
Personal Support From the Developer
If you're not happy then I'm not happy. Contact me and I'll help you every step of the way! Support forum is built in to the plugin or you can contact me here directly.
30 Day Money Back Guarantee
All Plans come with a 30 day no-questions asked money back guarantee! If you're not happy for any reason just contact me and I'll refund you!
Download and display reviews from 85+ sites & manually added reviews all together or separately!
Use the new Review Funnel feature in the plugin to grab reviews from 50+ more sites!
Get all of your Google reviews, not just the 5 Most Helpful!
Create a review summary Google Rich Snippet so your star rating will show in a Google result.
Automatically sync WooCommerce product reviews to create a "latest reviews" slider (with product images) for your homepage!
Show the logo from where the review originated, increasing customer confidence!
Super cool Summary Badges!
Front end Submission Forms so your customers can leave you reviews.
Email Notifications for new Low Reviews and new High Reviews if you want.
Multiple Template Styles, all easily customized.
Fine Tune Slider Controls, like speed, duration, transition style, auto-play, auto height adjust and more.
Create a grid of reviews by specifying the number of rows and columns.
Tons of Filter Options so you can display only the reviews you want. Even pick and choose them.
Analyze your reviews with super cool charts and graphs.
Support, Updates, & New Features
All Plans come with a 30 day no-questions asked money back guarantee!
Current User's can log in here.
Nine templates to choose from! We'll even add one if you're not happy.
Change the colors, border radius, date format, and turn on or off the stars and date. Even change the star icon if you wish.
Enter your own custom CSS or use a child theme to completely control the look of the template!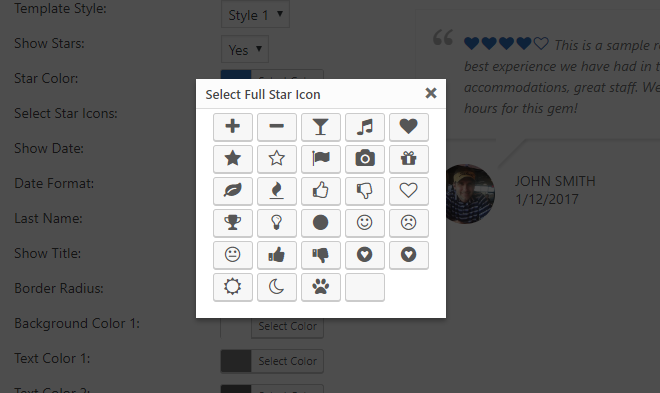 Select the full star icon and the empty star icon. Or leave the empty one blank if you want. Note: TripAdvisor and Yelp reviews must use their respective icons.
If you don't see one you like, simply contact us and we'll get it added!
Review Summary Badges
Easily create fancy badges like these to show off your Social Proof! Fully customizable colors, borders, icons, and CSS!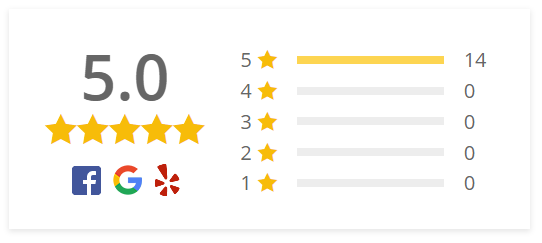 Front End Review Submission Forms
Create multiple forms that your customers can use to submit reviews to your products or testimonials for your business!
Create an unlimited number of submission forms for different parts of your site. Great for collecting WooCommerce product reviews and displaying them in a slider!
Hide the form behind a button, create an automatic Pop-up form, only display the form fields you actually need, Google reCAPTCHA support built in, and a lot more!
Catch negative reviews before they make it to Social Media! Use Form logic to show links (buttons or icons) to your Social Media Sites only when the rating is above a certain value!
Floating Badges and Review Sliders
Make your Badges or Review Slider float on the page! There's an example on the desktop version of this page in the bottom right and left.
Create an unlimited number of Floating Badges or Review Sliders to display on your site!
When someone clicks the Float you have the option of linking to another page or displaying a slide-out window of reviews!
Enter custom Header and Footer code for the Slide-out and even custom CSS style if you want.
The locations of the Float and the Slide-out can be changed easily!
Sync WooCommerce Reviews
 Automatically sync your WooCommerce reviews with the plugin to easily create a review slider displaying your latest product reviews!
Create a summary review slider of your product reviews for your homepage!
When you get a new WooCommerce review it is automatically inserted into the plugin. If you delete the review it's automatically deleted from the plugin.
Don't like the WooCommerce review system? Use our review submission form to completely replace it with this plugin.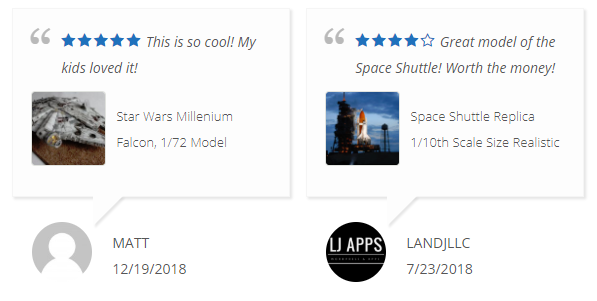 Multi-Language and Multi-Location Support
 Create review sliders based on language, location, and much more.

Automatic language detector so you can display and filter reviews by language.
Create review sliders for each location of your business. You can easily pick the original review source pages for each review template.
Filter reviews based on keywords, rating, word or character length, social page, category, or even pick and choose the reviews per a slider or grid.
Grab Your Reviews From 80+ Sites…
The plugin automatically works with a third-party service that allows you to download reviews from even more sites!
Agoda
Airbnb
AliExpress
AlternativeTo
Amazon
Angie's List
Apartmentratings
Apartments
Apple Appstore
Avvo
BBB
BookATable
Booking
Capterra
CarGurus
Cars
Citysearch
ConsumerAffairs
CreditKarma
CustomerLobby
DealerRater
Edmunds
Ebay
Etsy
Expedia
Experience
Facebook
Feedback Company
Feefo
FindLaw
Foursquare
Freemius
Gartner
G2Crowd
GetYourGuide
Glassdoor
Google
Google Play
Google Shopping
Greatschools
Healthgrades
HomeAdvisor
HomeAway
Homestars
Housecall Pro
Houzz
Hostelworld
Hotels
HungerStation
Indeed
Influenster
InsiderPages
IT Central Station
iTunes
Jet
Lawyer
LendingTree
Martindale
Newegg
Nextdoor
Niche
OpenRice
Opentable
ProductHunt
ProductReview
RateMDs
ReserveOut
Sitejabber
Siftery
SoftwareAdvice
StyleSeat
Talabat
TheKnot
Thumbtack
TripAdvisor
TrueLocal
Trulia
TrustedShops
Trustpilot
TrustRadius
Twitter
Vitals
VRBO
Walmart
WeddingWire
Yell
YellowPages
Yelp
Zillow
ZocDoc
Zomato
As a website designer we emphasis the importance of reviews to our client in attracting new clients. We had used the main competitors to this plugin which was limited to either a Facebook paid plugin or seperate paid Google review plugin. The added choice of other social media reviews you can have with this plugin such as TripAdvisor and the 10/10 customer support means we are installing this plugin on future clients websites and replacing the old competitors plugin on our existing clients websites! Developer, local company, self hosted website? You need this plugin!
I love this plugin, it increased my leads right away and people are telling me they contacted me because they saw good reviews from other customers.
With Yelp and Google being the go to resource for consumers searching for local businesses, displaying reviews from these credible sites is the ultimate confidence builder. This plug-in is simple and affordable and works as advertised. Support was also quick to respond and helpful. Two thumbs up.
Great plugin! Easy to setup, nice layout options.
I tried a lot of review plugins. This one is the best I found. When I had some problems, the developer addressed them the same day. Pricing is very fair and affordable.
Just purchased three lifetime licenses and planning to purchase more in the near future! Needed some help from Josh & he went above and beyond in providing top notch support. I never buy paid plugins, but this one is worth every penny. Highly recommended.
Another Usage Example With Pagination!
One Final Example Using The Advanced Slider Options!
Also Available on Other Platforms
More Being Added
If you have a suggestion, contact us below.
Can I grab and display reviews for more than one location and then filter the review slider by location?
Yes, you can download reviews from multiple sources and multiple pages per source. For instance if you have 10 different Google locations and 5 different Facebook pages you can grab reviews from all of them. Then you can create a review summary slider showing all the reviews. You can also create sliders that only show reviews for certain source pages. You could even create an entire directory style site if you want.
Do I also need the free version installed?
No, actually you need to deactivate the free version before activating the pro version.
Can I use this on multiple sites?
Yes, if you purchase the Multi-site license.
What is your refund policy?
We offer no-questions-asked refunds to all customers within 30 days of your purchase. If you are not satisfied with our product, then simply send us an email and we will refund your purchase right away.
What sort of support do you offer?
We pride ourselves on offering excellent support! Most of the time you'll be talking directly with the plugin developer. We have a community forum that you can access from the plugin in your WordPress admin. We also offer email support.
Can I upgrade after signing up?
Yes, you can upgrade at any time after signing up. This can be done directly from within the plugin.
Can I have different sliders displaying different reviews on different pages of my site?
Yes, you can create unlimited templates to display different reviews.
Can I cancel my subscription and still use the plugin?
Only for yearly subscriptions. If you decide not to renew, then you will still have access to the pro features of the plugin. However, you will not get updates or support.
Still Have Questions?
If we didn't answer all of your questions, feel free to drop us a line anytime.
A quick rundown on the changes for V11.2.0 of my WP Review Slider Pro WordPress plugin. The plugin allows you to easily download and display your reviews from over 85+ different sites. What's New… Added StyleSeat reviews. You can now easily download reviews from...
A quick rundown on the changes for V11.1.1 of my WP Review Slider Pro WordPress plugin. The plugin allows you to download and display your reviews from over 85+ different sites. What's New…  Added ability to track IP address on Form submission. You now have the...
The video below shows how to download new reviews using the Review Funnel method for my WP Review...
Scroll down for the Video Sometimes it can be convenient to know what search terms you need to...
Start making money promoting WP Review Slider Pro today! 
30% commission when a customer purchases a new license!
Get commission for automated subscription renewals!
30-day tracking cookie after the first visit to maximize earnings potential!
Unlimited commissions!